The Government are constantly informing us that employment is getting better, but is it? Some figures show, when you dig deep enough, that these are false claims. The number of part-time workers has been broadly rising across all age groups (16+) since the mid-1980s. Yet the number of UK part-time workers under the age of 30 has increased by 11% in the last five years
A spokesperson from the Department for Work and Pensions said: "There has actually been a greater increase in full-time working since the election (2010): full-time work is up by almost half a million since the last government."
This is another lie, because the first thing the coalition did, when coming to Office, was sack 500,000 public sector workers? In 2007 there were just over 1.89 million part-time workers under 30. Towards the end of 2012, that figure had gone up to more than 2.1million.  Ministers will say that part time work is good for providing valuable work experience and a stepping-stone to full time employment, but it also holds back economic growth, as people have less to spend.
As well as 'under-employment' the number of people with more than one job increased by 41,000 to 1.1 million. This doesn't help those seeking work or those who, having studied and borrowed to attain a degree, find themselves in this position. Current figures are a poor reflection of today's economy, with nearly 8 million Economically In-Active?
We also have this report from the Bank of England;  http://www.telegraph.co.uk/news/politics/conservative/10783556/Benefit-cuts-creating-new-generation-of-entrepreneurs-Bank-of-England-suggests.html Suggesting people are forced from the unemployment line, into self-employment, these figures are more muddied waters, as they bounce back in a couple of years time back to the dole? The taxman, in their first year wont scrutinise their books, so their claims for 'tax credits' will not be checked, but in the second year will and by the third year, these peole will probably be back on the dole?
See here the figures for Dec '13 til Mar '14 from ONS;
Workforce 16-65 England and Wales.
1, Total Population………………38,567,000
2, Economically Active…………30,721,000
3, Employed…………………………28,450,000
4, Unemployed………………………2,272,000
5, Economically In-Active………7,846,000
First figure is equal to adding fig 2 + 5 and figure 2 is equal to adding fig 3 + 4. This way we can deduct figure 3 from figure 2 and get 2,271,000, the number of self-employed. But, when we get all the area figures (below) and collate them, they don't quiet add up? Also, of the Economically In-Active, 3.2 million are claiming ESA, but when the Government discuss job vacancies they never build in the In-Active figure, it's never mentioned, only the unemployed?
 Area's    
Nov '13-Jan '14    1              2              3              4             5
North East
1700
1285
1160
125
415
North West
4442
3335
3062
277
1103
York / Humb
3469
2709
2470
239
760
East Midlands
2883
2254
2092
162
629
West Midlands
3434
2597
2378
218
837
East of England
3743
3012
2833
179
731
London
5471
4254
3903
350
1217
South East
5451
4441
4167
234
1050
South West
3290
2628
2471
158
661
Wales
1889
1441
1341
99
448
Scotland
3410
2676
2488
189
734
Totals                            39182            30632               28365               2230               8585                                                             These totals don't agree with the figures above?
Getting back to the 'recovery', has anybody studied it? We have a scenario for another crash, the economy consists of, Osborne's Ponzi scheme 'Help-to-buy', a little 0.9% manufacturing and a shed full of 'consumer debt'? If we thro in some Construction, it will actually bring down his Ponzi scheme, as building houses, reduces prices and will bring interest rate rises? We have just been informed that the Euro-zone will continue to struggle for another ten years? These are our biggest customers; surely we should leave the EU, at least the political side and build trade agreements with those countries that are growing? Cameron has spent a small fortune on Trade Delegations to India and China, yet we have no trade agreement with either? What's he been up to? Selling off more of our assets! He's reportedly signed a deal with China, for them to build nuclear power stations, for twice the price of electricity at present, 90p a unit? How on earth people are expected to pay these figures when wages are suppressed and with the onset of the TTIP, likely to remain so.
So much for Osborne's 'recovery'!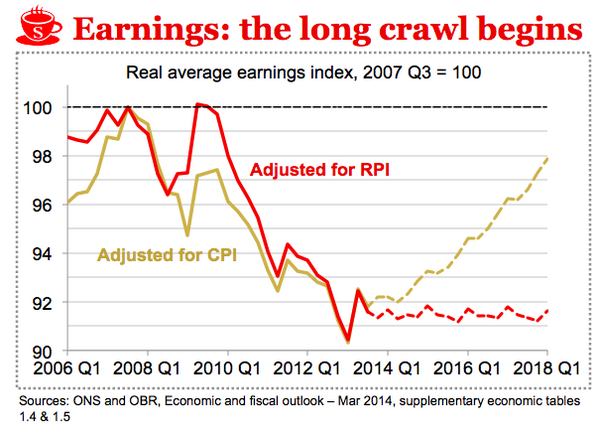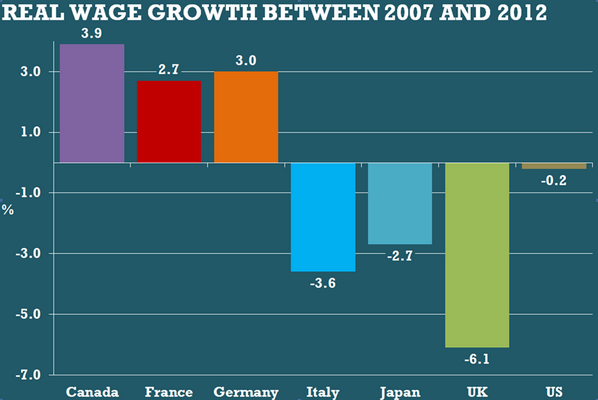 While other major economies have seen pay levels return to pre-crash highs, wages in the UK were 6.1 per cent lower in real terms in 2012 than in 2007. French and Germans work fewer hours and get wage rise?
The Office for National Statistics said that wages have been falling 'markedly' since 2007, and by 2012 were 6.1 per cent lower in real terms five years earlier. At the same time, wages were 4 per cent higher in Canada, 2.8 per cent higher in France and 3.1 per cent higher in Germany.
This leads me right into Roger Helmer's recent 'blog' http://t.co/dv8qkeZWIw, with the added notation, Nationalise first? We don't want to be creating funds for share-holders!